Moderators: Bullitt, Aud8us, Michael Butterfield, johnny5
Posts: 225
Joined: Fri Nov 13, 2009 2:23 am
Location: Scotland
The capital S and small s are similar, pity he didn't do a capital G like the card has as that is a little unusual, yeah small similarities and others look quite different.

Mind you I do believe unless I'm mistaken is that Sherwood Morrell's cursive writing all over the FBI files and his printing as well, that's similar too.

I'd better stop it or I'll start a conspiracy theory.

I'm going to look at the Webster handwriting as well, some of those files would send your head spinning.
---
Yeah the Webster writing was in a section that read something like "Not determined to be from Zodiac", or something to that effect, which in my mind, made it sound like it was possibly Z. Webster's writing looked sloppy, and similar to Z, but as I said, I did verify that the writing was his, and not from Z.
---
Obviously not a lot of Z pointers in this correspondence. It's got two stamps, but they are 10 cent stamps and the postage was 11, a common thing to do. The handwriting is not comparable since it's cursive, however it looks more elaborate to me than Z's rather simple letters. With it's curls and tails it looks feminine imho. I would guess that people that take the time to stylize their writing like this would also carry it over to hand printing. Speculation again of course.
That leaves the numbers, the standout being the number 9, also elaborate in it's curved bottom. Looking at Harntell's door, Z made the 9s in the common fashion, a loop and a quick straight downstroke. The only other Z 9 that comes to mind is on the map, again a straight leg. Again not much to go on, but I tend to think of someone disguising their handwriting as not carrying it over to the numbers so much.
---
ive never even looked at anything to do with this case for 2 reasons -- the info i had was the Z card (not this card) was a hoax, & the call to landlord + employer about how she wouldn't be in, which is not at all Z like.

is there some reason to think now that the card wasn't a hoax? tom voight's (i know) site says it outright that a detective said 'a z investigator' admitted to forging it; i've seen here that it was 'common knowledge' @ SFPD at the time, that toschi did.

it is also at least a little odd that Z would kill in such a personal manner, send a card to the chronicle AND the victim's family, but never provide a shred of physical proof.

my initial reaction to the card is that it looks like it was written by an old woman! for some reason that creeps me out a bit -- shades of 'patricia hautz'.
---
Zodiac, did write and send a letter to Joesph Bates in the Cheri Jo Bates case (according to handwriting experts). So if that is true, he demonstrated that he could reach out tauntingly to family members.
---
well, if the Z card sent to the chronicle was a hoax, there is absolutely no reason - none - to believe this was a zodiac crime. it's just a disappearance of a young woman with one major element (the phone calls) that do not fit Z, & one (the letter to sister) that could fit Z or anyone else sick enough to kidnap & murder another person.
---
There are very few examples of Zodiac cursive writing. One I post here is the Riverside envelope. One thing it shares with the card to the sister of Lass is a tendency to sometimes seperate the first capital letter in a word from the rest of the word. And they both have somewhat ornate, flowery, slightly prissy look IMO.

I think the "pines card" was confirmed as Zodiac (?), or at least thought by SFPD as likely Zodiac. There is not a lot of writing on it so it would be hard to be conclusive either way. It certainly seems and feels like Z to me, and the Lass case was somewhat obscure so it would be an odd one for a hoaxster to pick. And I don't think a hoaxster sent the card to Donna's sister either - just my opinion.

And I agree with Morf, we have at least some precedent for probable Z taunting of family members, with the letters to Mr. Bates and the newspaper letter basically taunting the brother of Paul Stine.
---
ive read a couple times exactly the opposite about the pines card -- that the SFPD not only believed it was a hoax but that one of their own did it or even confessed (as per zk.com). i just read here the other day some ex-cop saying something along the lines of "the whole thing went under when he [toschi] sent that letter" or something to that effect.
In 1999 a retired detective revealed to me that a former Zodiac investigator had admitted to forging the Lass postcard.
maybe a third party can clear that up.
here is a tiny example of Z cursive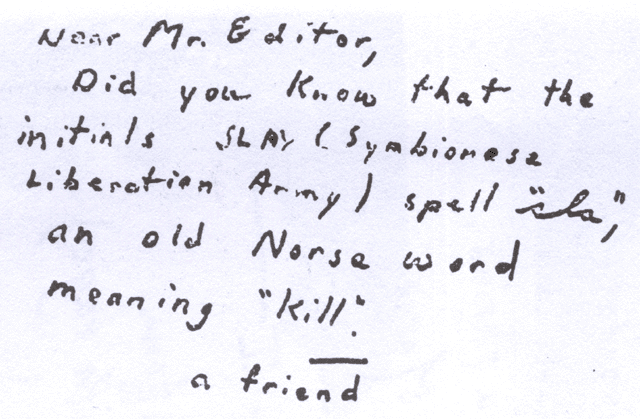 the script of this card is so ornate, like i said, it looks like an older lady's handwriting. it's hard for me to believe a male perp's actual handwriting would've looked like that, if one was behind this letter. at the same time it looks very natural. the text is so innocuous that, if it were a male perp, perhaps he had an older woman aquaintance write it out under some excuse. it's odd but i doubt Z has anything to do w/ any of this, unless someone can repudiate the hoax 'theory'.
---
Tom V, a noted liar and hype artist, saying that some unnamed detective told him that he heard some other detective faked the Lass card? I give that zero credibility, and I have never heard anything backing that up.

I will have to search my notes, but I am fairly certain this card, which does have some handwriting, was authenticated by Sherwood Morrill and Cal Justice, and included in the "inconclusive" but "certain characteristics indicate one author may have prepared them all" statement in the FBI report. Also, it looks like Z, feels like Z, and has a non-SF obscure crime it refers to, but makes no spectacular claims, all of which lead ME to conclude it is proably real. And the card to the sister of Lass seems to play off this, with the "Guardian of the Pines" reference.
---
i'm not sure when this letter came to light, but you're right, the pine references are beyond likely coincidence. if the chronicle card was made public it could be forced.

fwiw, i only quoted voight because it meshes with some other things ive read, though i cant source them -- that's why i'm hoping someone can step in. i may be conflating things.
---
Who is online
Users browsing this forum: No registered users and 0 guests