Moderators: Bullitt, Aud8us, Michael Butterfield, johnny5
I mean if LE had investigated your suspect and find out that he was Z, we certainly had already heard of him on TV. The reason I was asking is that there are all kind of known attention seekers sending their unsupported claims to LE. Therefore, I'm wondering whether LE took your information seriously. Because normally I expect other people, especially an authority, to send a reply, something like, "Dear Mr… We have scrutinized the information you sent us and cleared your suspect. Regards…"

Thereofore, I think it it would be reasonable to contact them asking whether they have looked into the information you sent them.
---
Jeff: I received a call from Kevin Jones lead inspector from SFPD on zodiac case last August after I submitted my files. I have had several phone discussions with him since then, many of which were initiated by him. I have not heard from him since probably about April of this year. He did say that he had forwarded the files on to doj and fbi. I have no reason to doubt that. From our conversations it was apparent he had read the file and there was an interest. Let's not lose sight of the fact this is a 40 year old case and le is not jumping into leads like they used to. There are more pressing issues.
---
---
ok here it is..not something i'm proud of... quality sux but i had to cut the letters and paste them as to preserve my poi's anonymity. it's like most cases, some have possibility others ehhh...look at the word "july" though and compare to the early z letters refering to the killings in july...very similiar. what also struck me is even tho most of my samples are cursive, observe the changes in the handwriting style.
[size=85]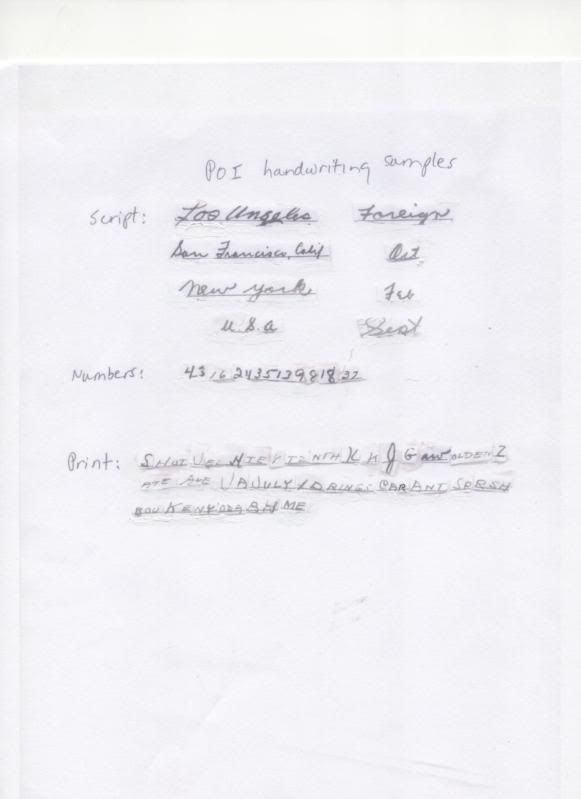 [/size]
---
Jackiac,
Wow you really did cut and paste didn't you. Thanks for sharing.
It seems like there are some similarities, but I think your handwriting is closer especially your S
All kidding aside, I would want to learn more about your POI, because the things you showed so far are interesting.
That curly 2 bothers me though.
---
Couple of 3 stroke Ks, that's encouraging. Agree with Zsearcher on the 2, not sure Z ever used a loop at the bottom.
---
yeah i know the 2 is different but keep in mind the handwriting i have is from when my poi was in the service, years before the crimes. another interesting fact i just discovered, my poi forged a signature on his military records...makes one wonder if this was a regular habit and would explain variances in handwriting.
---
Return to San Francisco (Paul Stine)
Who is online
Users browsing this forum: No registered users and 0 guests